Send A File
EASTERN SIGNS, INC.
The most trusted name in graphic production for over 25 years
State Licensed #654421 - Insured - U.L. Listed

Click here to download our Brochure
Links: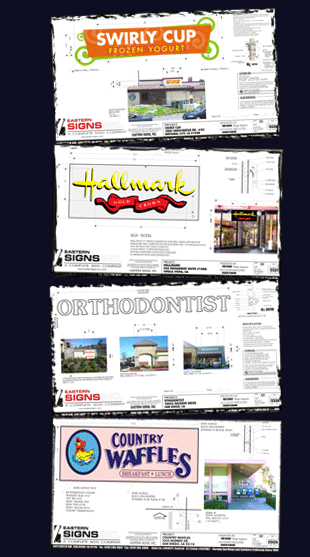 Services and Capabilities
EASTERN SIGNS, INC. has built a proven method of getting your job done. We take care of you and your project every step of the way. Below is a basic outline of the step-by-step process we go through with each job.
From start to finish, we do it all.
Step 1: Site Survey
Our team determines the specific requirements needed for the signage of the location. This includes the following detailed information:
Digital photos and measurements of: building elevations, free standing signs, potential opportunities, and neighboring signs
Type of construction including fascia material and color
Recommended mounting methods
Electrical requirements
Step 2: Site Analysis/Code Review
After, estimates helps the customer create the look and measurements to the desired signage so that it meets the criteria provided by the landlord and city, in addition to the customer's preferences. Estimates are rough drafts of the calculations made on measurements so that they are approved in order to move on to the designing and engineering of the actual signage.
Site analysis and code review is recommended prior to the signing of any leases as these requirements and conditions may have an effect on the feasibility of this site being successful. If it is determined that the desired signage is not allowed by township code we also offer our services in pursuing a variance to the code.
Step 3: Design/Engineering
Once the estimates have been approved of, our design manager creates a proof—a professional 3-dimensional drawing of the sign, the colors, the measurements, the tools and materials required to mount the sign, the exact amount of electrical output and more constructional details located on the proof.
Step 4: Customer/Landlord Approval
With all the details of the sign located on the proof, it is then sent to the customer for approval. If there needs to be any changes, the proof is updated and then sent back to be re-approved. After the customer agrees, it becomes final and is then sent to the landlord to be signed off, the general contractor for the site to be prepared as noted, and lastly for the city for approval as well.
Step 5: Permit Procurement
The city is the last group to approve of the proof. By doing so, our team is responsible for attaining a permit from the city before continuing the sign process. Eastern Signs provides the service of managing and securing all permits required at each site. We currently hold most of business licenses in Southern California: San Diego County, Imperial County, Orange County, Los Angeles County….and most major City in Northern California: San Jose, San Francisco, Sacramento, Stockton…..
Step 6: Manufacturing
All of our signs are started in-house, which is created, designed and manufactured within our own Facility. We have the equipment and technology to ensure that your sign will be of the best quality provided as well as the best craftsmanship possible. Additionally, we have invested in modern computerized equipment and our Company is Underwriters Laboratory Listed and Approved
Step 7: Installation
The installation process is the finishing factor in the signage process. Our team will be on location to set up the necessary materials to install the sign, start up the electrical source to power up your sign and complete the job at hand to the fullest extent, making sure that your sign is perfect and beautifully presentable. For jobs that are further, we utilize a network of sign installers throughout the United States. By doing this, we have been able to complete jobs as far away as Nevada, Arizona, Oklahoma, Denver ....
Step 8: Maintenance and Repairs
With over 25 years in business and with our fleet of equipment, also experiences employees we also offer maintenance and repairs, we can handle almost any type of service call. Again, utilizing our association with a network of sign professionals across the country, we can manage service calls anywhere in the United States.
Project Management:
The process will be managed by a Project Manager. A Project Manager will be assigned to your account and will manage the process from start to finish.

Equipment:
High Volume Electrobits Neon Processing Plant (Latest model)
CLN Channel letter Production Systems
Mig-135 Spool-Gun Arc -  Spot Welding – Stud Welder
Exweld Extrustion Plastic Welder & Acrylic Flame Polishing
LetterLok 4000 Clinching Equipments
Steel & Alluminum Fabrication Equipments
Automated Hole Punches, Sheet Metal Power Shear, 16GA. Slitter
Finger Brake, Straight Brake, Panel Saw, Band Saw….
 ColorCAMM Pro PC-600 Printer-Cutter
Roland Pro II 540-EX Large Format Solvent Printer-Cutter
Several design Stations with The Most Up-to-date Software ( USB keys )  including Signlad, Castmate Pro, Plexisign Pro, Neon Wizard Pro and  Auto CAD programs.
In-house 24"-30"-48" & 54" Vinyl Plotters
Multiple Service Trucks, delivery and Installation trucks.
Etc....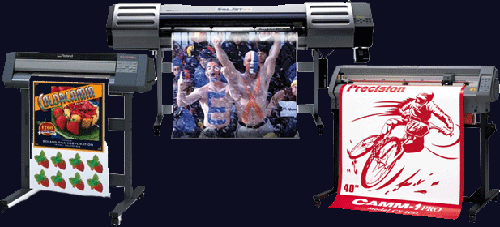 Warranty:
Eastern Signs, Inc. warrants that all manufactured merchandise will be free from defective materials for a period of (12) month and a 90-days unconditional guarantee on parts and labor from the final date of installation (exclusive of Incandescent lamps and Slimline lamps which shall be so warranted for a period of 30 days).
L.E.D warranty for 3-5 years depending on manufactures
Transformers warranty for 2 years from the date of manufactures
This warranty shall extend to all labor costs during the first year of its term.
This warranty does not include damages due to acts of God, vandalism, negligence, or improper use.
All warranty issues must be sent to Eastern Signs for review, and can only be processed through Eastern Signs, Inc. service department.

All signs we manufacture meet the sign criteria and community requirements.
GUARANTEED

Our electrical signs exceed the expected following specifications
U.L 48 for Electric Signs
GUARANTEED

Sign permits are approved from city to city in Southern California to Northern California
GUARANTEED