Experiences:
Established in 1984.
Eastern Signs is THE OLDEST LICENSED ELECTRICAL SIGN CONTRACTOR IN SAN DIEGO.
Our Team of fabricators and installation professional have over 100 years of combined experience in the sign industry.
We Do Not Sell Your Signs to Others !
We fabricate 100% all types of signs in our
IN-HOUSE MANUFACTURING facility including all types of Electric signs, channel letters, monument signs, interior and exterior signs.
IN-HOUSE NEON FACILITY
IN-HOUSE DIGITAL PRINTING
Quality Always In Control
EASTERN SIGNS, INC. is U.L. APPROVED SIGN MANUFACTURING USA & CANADA
Our Channel letters meet or Exceed the specifications of U.L. 48 for Electric Signs.
You Are Safe !
We are STATE CERTIFIED. Fully Licensed
( California Licensed # 654421-C45 ). Since 1984
For our specialty Contractors we carry General Liability Insurance and Workers Comp Insurance on all employees.
Industry Members
Serving California since 1984
State Licensed #654421 (C45) - Bonded - Insured - U.L. Listed #E228452
Members: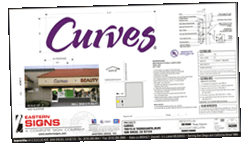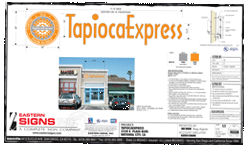 Front-Lit Standard Channel Letters
Since 1984, Eastern Signs has offered solutions for all business signs in San Diego. We are the highest leading channel letter manufacturing facility in San Diego with more than 1,000 business signs ( channel letters ) produced and installed every year. Eastern Signs is commonly known as "Your Complete Sign Company in San Diego". Our channel letter products can be seen on office buildings, shopping centers, hotel and resorts, banks, colleges and universities, hospitals, and restaurants. We've also worked with community and government officials such as fire departments, U.S Navy, U.S Coast Guard, U.S. Marine Corp.
Regardless of how intricate or detailed the signage may be, Eastern Signs is able to produce a one-of-a-kind.
Click on one of the thumbnail to see the large size image. Use your keyboard arrows (

) to navigate through the pictures.

Quick Service & same day quotes.
Serving San Diego and California since 1984.
California Licensed - Insured - U.L listed

Manufactured, Permit & Install
Over 1,000 channel letter signs per year.

All signs we manufacture meet the sign criteria and community requirements.
GUARANTEED

Our electrical signs exceed the expected following specifications
U.L 48 for Electric Signs
GUARANTEED

Sign permits are approved from city to city in Southern California to Northern California
GUARANTEED