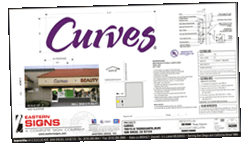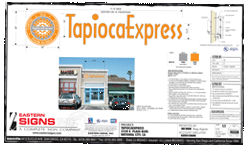 3D and Non-Electrical Signs
Eastern Signs carries a complete line of sign letters and 3D letters to add substance to your company's message and image. We offer an array of sizes, colors, type styles and materials that can be applied to indoor and outdoor signs. Sign letters and 3D letters for exterior signs can be used outdoors for building signage, walls or entrance doorway signage. For interior signs, 3D letters can be incorporated to add visual interest to any prominent place inside the building. One of our representatives will be happy to visit your office to discuss options for materials, design, sizing and mounting..
Indoor Signs

Outdoor Signs

3D Lettering Options
Eastern Signs offers a wide range of 3D letters to fit different budgets, preferences and needs. Our sign letters are cut using high-speed lasers or routers to create a different impact. Metal letters are our most distinguished and luxurious choice, and can be installed in a variety of ways. Flat-cut acrylic plastic sign letters, which are precisely cut with a laser, are the most cost-effective 3D letters we have to offer. Formed plastic sign letters are also a professional and economical option.
Our sign letters and 3D letter options for interior or exterior use include:
Acrylic Letters
PVC Letters
Sign Foam Letters
Gator Foam Letters
Metal Face Acrylic Letters
Metal Face PVC Letters
Metal Face Gator Foam Letter
Metal Face Sign Foam Letters
Cast metal letters in aluminum, bronze and painted
Flat metal letters in brass, aluminum, bronze, copper and stainless steel
Dense Foam
Aluminum Letters
Let our sign letters and 3D letters add an element of class and distinction to your wall signage.
Contact us now for more information about how 3D letters can enhance your company's communications with a new wall sign.

Quick Service & same day quotes.
Serving San Diego and California since 1984.
California Licensed - Insured - U.L listed


Manufactured over 1,000 3 Dimensional signs per year.